Acura Of Columbus
Service Center
Reach out to our team to learn about our pickup and delivery options
Welcome to the Acura of Columbus Service Center - Your Home for Expert Maintenance and Impeccable Customer Service
You made the right choice when you decided to invest in a world-class, luxurious Acura car or SUV. To care for it and maintain it for a long time to come, it's time to make another great decision, and trust the service center at Acura of Columbus.
As your Columbus, GA expert dealership specializing in world-class Acura engineering, our maintenance technicians are trained and certified to be your best local choice for the care and keeping of your luxury model. We know Acura craftsmanship and parts better than your neighborhood garage, and we invite you to schedule an appointment online and experience firsthand the difference we can make on your automotive experience.
Loaner cars must be reserved ahead of time by calling the dealership at 888-696-7208
If you own an Acura and are concerned you may have an open recall please 
go to Acura Recalls 
or call us at 888-234-2138 for more information
State-of-the-Art Acura Service Facility
Not only will you find a professional and courteous service team at our Whittlesey Boulevard dealership, you'll also discover our new customer-orientated service facility. Whether you come from Auburn or Phenix City, you'll find a peaceful, quiet waiting room full of perks, where you can easily sit and wait for your vehicle to finish being serviced.
This comfortable space includes specific quiet areas where you can sit and get some work done, as well as free Wi-Fi access and complimentary refreshments.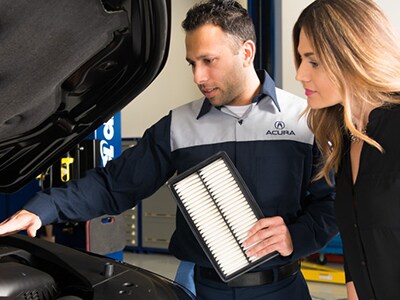 Amenities
Business center
Wi-Fi
Loaner with reservation
Complimentary wash and vacuum
Shuttle Service
Coffee, snacks and refreshments
Routine Maintenance, In-Depth Repairs, and Everything in Between
As your local certified service center specializing in Acura models, one thing you can be sure of when you work with us is that we're ready to meet all your service needs, from the routine oil change to the occasional brake system repair.
Regularly Scheduled Services You Need
Keep your Acura running and looking great for a long time to come, with our help. We'll keep you safely on the roads with topnotch service and inspections, with a range of appointments available, such as:
Oil changes
Tire rotations
State inspections
Service to Keep You on the Road
In addition to the regularly scheduled services every vehicle needs, our technicians are also your best local choice for occasional repairs and bigger jobs. From brakes to tire care, your Acura has a lot of essential parts that keep you safely on the roads around Opelika, and we have the expertise to care for all of them. These include:
Brakes inspections, repairs, and replacements, including fluid, pads and rotors
Windshield wipers inspection and replacements
Tire inspections, including tread depth
Tire repairs and replacements, including installing new tires and repairing minor damage
Heat, defrost, and air conditioning tune ups and repairs
Battery life inspections and replacements
Convenience, Savings, and Specials at Your Fingertips
At Acura of Columbus, we strive to be there for each of our customers, and our service center makes it convenient to give your vehicle the proper care and service it needs. We provide appointments online or on the phone, and we allow the convenience of walk-in availability as well. Our service center is open Monday through Friday until 6 PM, and we keep weekend hours every Saturday until 2 PM as well, to make it easy for you to find the time in your schedule for automotive service.
Give your vehicle the care it needs, with the high standards of customer service you deserve, by scheduling your next Acura maintenance appointment soon, and don't forget to check out our current offers and money-saving service coupons before you come in. We like to save money as much as anyone else, and we provide ongoing, regularly updated service promotions, to sweeten the deal and make it more affordable to get the services your Acura needs taken care of.
Our Range Of Services Offered
Service 1: Codes A1 & B1
Synthetic blend oil with Genuine Acura oil & Filter
Tire rotation with all wheel brake inspection
Test battery condition
Comprehensive multipoint inspection
Inspect all exterior lighting
Hand torque lug nuts
Inspect brake components
Measure brake lining wear
Inspect underside of chassis
Inspect vital fluids
Adjust tire pressure
Inspect tire condition & measure tread depth
Silver Package:
$129.95 + Tax.
Additional $6.00 for MDX
Gold Package:
$199.95 + Tax.
All above plus wiper inserts, oil and fuel additives.
Additional $6.00 for MDX
Platinum Package:
$339.95 + Tax.
All above plus wiper inserts, oil and fuel additives tire balancing and four wheel alingment.
Additional $6.00 for MDX
Service 1: Codes A12 & B12
Synthetic blend oil with Genuine Acura oil & Filter
Tire rotation with all wheel brake inspection
Test battery condition
Comprehensive multipoint inspection
Inspect all exterior lighting
Hand torque lug nuts
Inspect brake components
Measure brake lining wear
Inspect underside of chassis
Inspect vital fluids
Adjust tire pressure
Inspect tire condition & measure tread depth
Replace engine air filter
Replace cabin air filter
Silver Package:
$249.95 + Tax.
Additional $6.00 for MDX
Gold Package:
$319.95 + Tax.
All above plus wiper inserts, oil and fuel additives.
Additional $6.00 for MDX
Platinum Package:
$459.95 + Tax.
All above plus wiper inserts, oil and fuel additives tire balancing and four wheel alingment.
Additional $6.00 for MDX
Service 3: Transmission Services
6 Speed A/T 2WD: $89.95
6 Speed A/T 4WD: $129.95
8 Speed A/T 2WD: $149.95
9 Speed A/T 2WD: $359.95
9 Speed A/T 4WD: $399.95
10 Speed A/T 2WD: $149.95
10 speed A/T AWD: $199.95
Department Hours
Monday

7:30AM-6:00PM

Tuesday

7:30AM-6:00PM

Wednesday

7:30AM-6:00PM

Thursday

7:30AM-6:00PM

Friday

7:30AM-6:00PM

Saturday

7:30AM-2:00PM

Sunday

Closed
Directions
Get Directions