Oil Changes at Acura of Columbus
Is It Time for an Acura Oil Change?
Have you been up to date on your Acura's maintenance? After checking the owner's manual, you may notice it is time for an oil change. Don't put that service off. Come to our dealership in Columbus, GA to change the oil and take care of other issues with the Acura. New oil benefits your Acura's engine immensely.
Oil and the Acura's Engine
Motor oil lubricates an engine, which reduces friction and heat on the engine. Without oil, an engine would seize within minutes and become completely totaled. Unless there is a leak, the oil won't run out, leaving the engine to suffer a metal-on-metal demise. Leaks can and do happen, and that's one reason why it is important to check the oil level routinely.
Old oil can be destructive to the engine, too. Some drivers don't change their vehicle's oil at all. The aged oil eventually turns to sludge and cannot lubricate the engine. A totaled car results. Don't allow your Acura to suffer from these extreme situations. Bring the vehicle to our location for an oil change.
Oil Change Times
Engine oil requires changing at the manufacturer's recommended interval. Five thousand miles is the average driving duration between oil changes for many vehicles. Some models can go 7,000 to even 10,000 miles. Check your Acura's manual for the precise mileage recommendation on your model.
Age also affects oil. Even if you do not drive a vehicle often or, for that matter, at all, changing oil older than six months becomes recommended. Oil breaks down over time, and old oil can't perform effectively in the engine.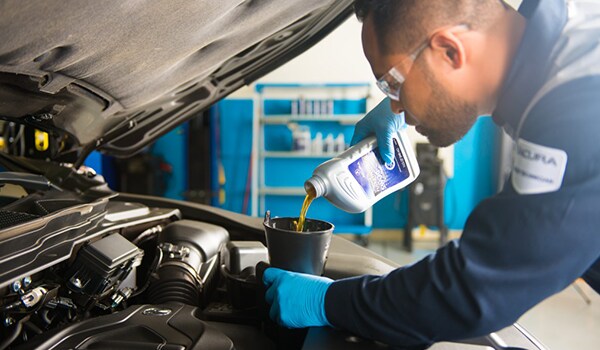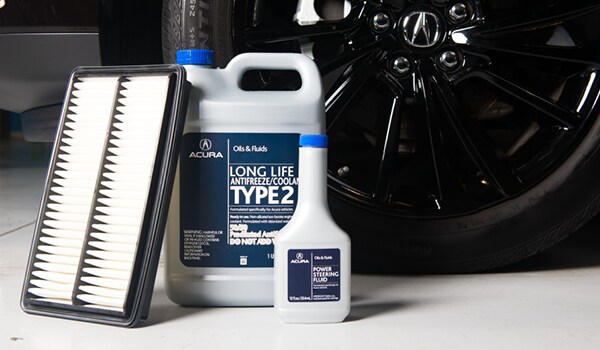 Common Issues with Old Oil
Oil becomes dirty with use and age. Motor oil presents greenish-color when brand new. Eventually, the color turns to brown and then black. Again, the oil can't keep the engine lubricated in old, overused condition. The engine might amass unwanted oil sludge. If a technician discovers sludge, the engine needs a good internal cleaning.
Aged, worn oil also undermines engine performance. Drivers might discover poor gas mileage and other performance issues when using old oil. So, change the oil on time to avoid such woes.
Oil Change Opens Other Service Doors
An oil change allows a technician a chance to perform a multi-point inspection on the vehicle. A thorough check of the belts, hoses, windshield wiper blades, lights, and more takes less time than you think. Often, a basic visual inspection can uncover some obvious problems.
Many people choose to get tire rotations done during an oil change, and the rotation service also allows technicians a chance to inspect the tires. When removing the tires to rotate then, the crew can also look closely at the brakes for wear and tear. By bringing you Acura in for timely oil changes, you also stay on top of other maintenance issues.
Schedule an Oil Change
How can you schedule an oil change in Phenix City? There are different ways to go about doing so. Booking online might be preferable for many. Visit our website and follow the steps for scheduling service. Select an available time and date while noting you want your Acura's oil changed. Of course, you can schedule additional maintenance services online, as well. Many Acura owners prefer this method since online booking is available 24/7.
If you want to book service over the phone, feel free to do so. A customer care representative awaits your call.
Bringing the vehicle to our location and requesting service is an option. Be sure to arrive during our service department's hours of operation.
Let Us Help You Care for Your Acura
At Acura of Columbus, we can help you buy the best car and also take care of it. Whether you're in Opelika or Auburn, AL, our skilled technicians specialize in Acura models and await your visit.
Department Hours
Monday

9:00 AM-7:00 PM

Tuesday

9:00 AM-7:00 PM

Wednesday

9:00 AM-7:00 PM

Thursday

9:00 AM-7:00 PM

Friday

9:00 AM-7:00 PM

Saturday

9:00 AM-6:00 PM

Sunday

Closed