Tire Services at Acura of Columbus
Professional Acura Tire Service Now Available
Your tires are a critical part of your vehicle. That is because your tires are the only part of your vehicle that makes consistent contact with the road. Therefore, you will want to make sure that your tires are in top condition. At Acura of Columbus, we can provide top tire service for your Acura. Throughout the Columbus, GA area, we have serviced many Acura luxury cars and SUVs with top tire replacement and service.
Available Tire Services
Our service center provides complete tire service and sales for all Acura vehicles. You can rely on us to know your vehicle and have the right tires or tire service to ensure top performance. Here is a look at our current tire services.
Tire Inspection
Are you headed on a big road trip? Make sure that your tires are in top condition before you hit the road. We can perform a complete tire inspection that will check the wear on each of your tires. We can also check for cracks on the sidewall of any telltale signs of tire damage.
Tire Repair
If you have minor damage to your tire, such as a puncture on the tire tread, we can make the proper repairs to make that tire safe enough for highway driving. Our top tire repair tools will ensure the best possible results.
Tire Alignment
Tire alignment service will ensure that your wheels will wear down naturally. Our service center can perform this service fast and get you back on the road right away.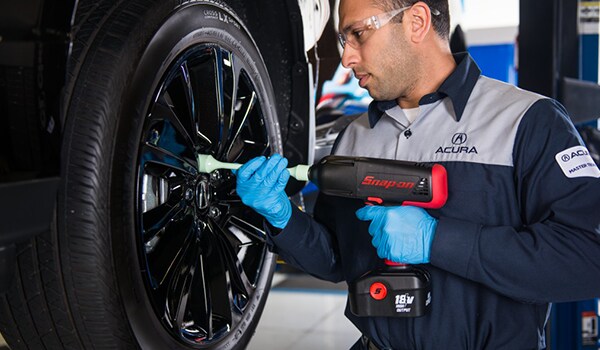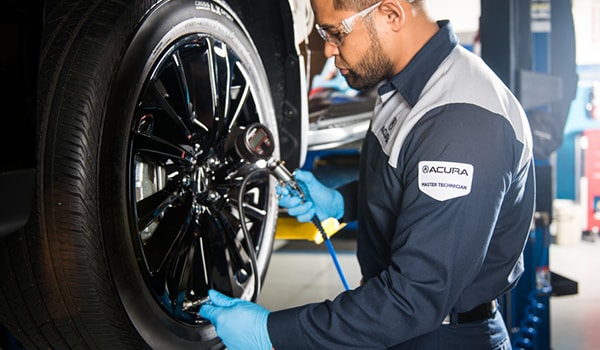 Tire Balancing
Do you drive over bumpy roads? Have you hit a curb or a bump? That means that your tires may be out of balance. This will result in lower ride quality. If left untreated, unbalanced tires can cause long term damage to your vehicle. Our service center can provide quick and accurate tire balance service to give you a smooth and comfortable ride.
Tire Rotation
Ensure the proper wear on your tires with a regular tire rotation service. With this service, we will move your tires around the vehicle to ensure equal wear and longer tire life. It is recommended that you have your tire rotated at least twice per year.
Seasonal Tire Replacement
Get your Acura ready for a change in seasons with a seasonal tire change. When the winter comes, we can change out your summer tires for winter or snow tires. When the summer comes, we can replace your snow tires for summer or performance tires. Our fast tire replacement service will ensure that you are in and out quickly. Here some of the other types of tires that we can replace:
All-season tires - These tires are ideal for all-weather driving when winter weather is moderate with little to no snow.
All-terrain tires - These tires are ideal for off-road and all-terrain driving conditions.
Mud tires - if you are planning to take your Acura SUV over rocks, snow, or other challenging terrains, then you will want to have mud tires on your vehicle.
Low-profile tires - Looking for enhanced performance and contact on the road? These tires have a wider tread and short sidewalls for better handling.
Performance tires - Provides excellent traction and maneuverability to give you optimal performance.
Tire Sales
Our service center has the recommended tires for all Acura vehicles. This will ensure the peak performance for your Acura. We offer each of our tires at competitive prices with quick, professional tire installation.
Schedule Your Appointment Today
Our dealership service team is ready to provide your Acura with the tire service that it needs to maintain peak performance. Schedule your appointment today at Acura of Columbus. Whether you're in Phenix City or Opelika, we are ready to service your Acura today.
Department Hours
Monday

9:00 AM-7:00 PM

Tuesday

9:00 AM-7:00 PM

Wednesday

9:00 AM-7:00 PM

Thursday

9:00 AM-7:00 PM

Friday

9:00 AM-7:00 PM

Saturday

9:00 AM-6:00 PM

Sunday

Closed